Individual plan
Basic Pelvic Anatomy Package
This set of illustrations can be purchased and used for individual (corporate rates available) needs such as slides, books, websites, social media posts, etc.

Make your work have that extra edge with beautiful anatomy images that come in different skin tones and labeled and unlabeled versions.

All images have transparent background so they can seamlessly flow into any of your slides or marketing material (the grey/white checks are how transparent backgrounds show up until you download them.

All images are .png files, 640x640 for easy use.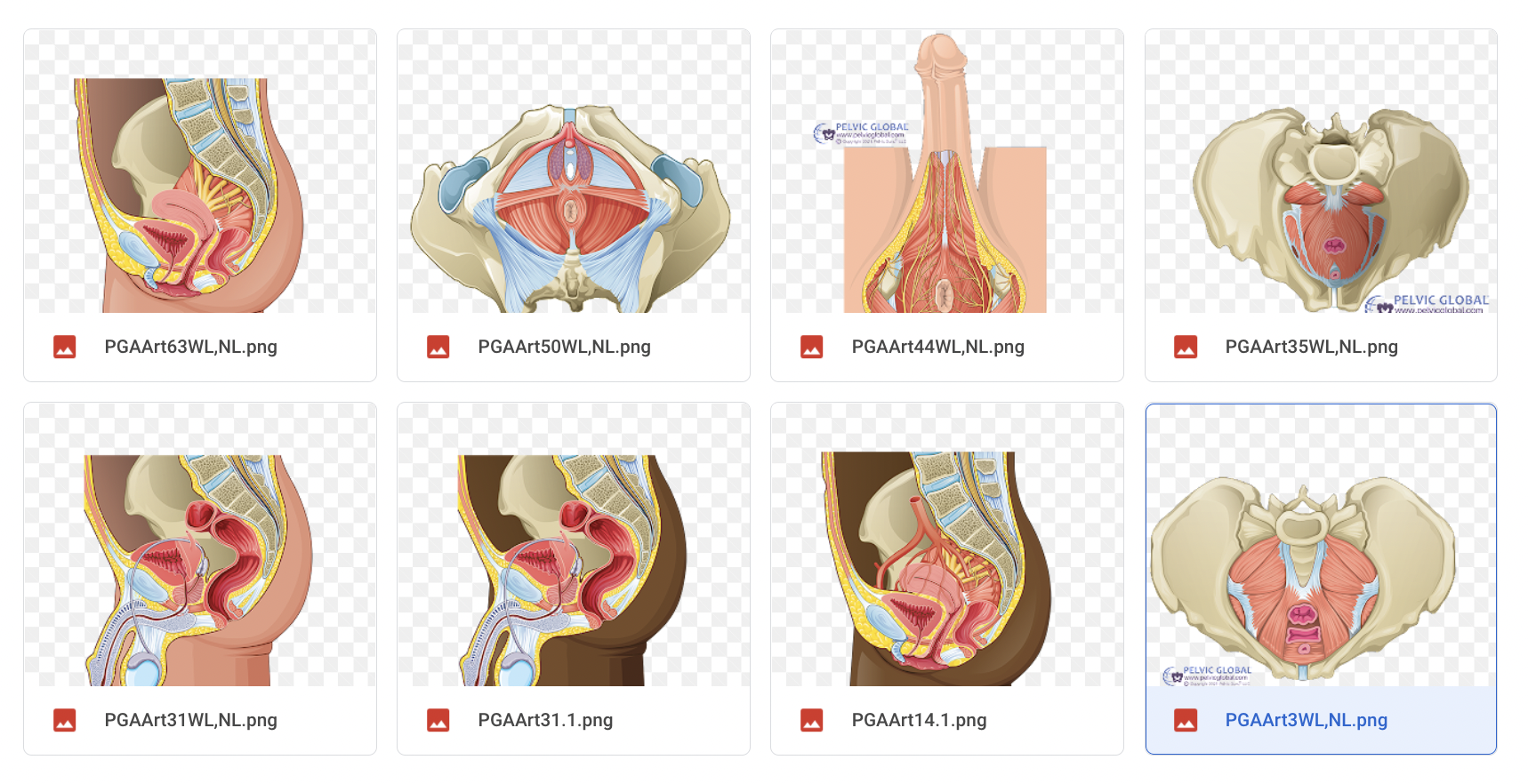 Sagittal plane pelvic anatomy

Inferior and superior views of pelvic floor muscles

Typical XX and XY anatomy

Labeled and Unlabeled images

Dark and light skin tones
Bring your courses, website, and education up to a new level!
Enrolling in this package of illustrations give you access to using these images for your practice and education. They can be used for such as:
Blogs
Leads/Opt-ins
Courses/classes/workshops
Handouts
Flyers
Websites
Social medial posts
Books

Add professional images to your presentation.
It can be really hard to find images that you can use without worrying about copyright issues. We had the same issues... which is why we made our own. And now we want to share with you!
Do you want a greater array of illustrations?
The Global Pelvic Health Alliance Membership
The Global Pelvic Health Alliance Membership is a collaborations of pelvic health professionals that exchange ideas about clinical and business. To support our members, we create illustrations and handouts that can be used for people doing education or marketing their services.
Guidelines for Use of Images
You may use these images with the following requirements:
Do not alter the image. If you need only a few labels, you may use a "non-labeled" image and then just add a few labels as we understand that might work better for what you are trying to use.
Do not take off or crop the logo
Please add the line "Image used with permission from Pelvic Guru®, LLC www.pelvicglobal.com" wherever you use the image.
Eligibility for using images:
You must have purchased these images through this plan (or be an active GPHAM member)
You may use the illustrations in any presentations for which you are a primary creator.
At no point should the rights to anything you create that include these images be granted to a different organization or institution (I.e. if you work for a larger hospital system and you do a presentation, you may use the images, but you may not give the hospital the rights to your presentation that includes these images).

Thank you! Please direct any questions about use of images to

[email protected]

.